What is a RE?
RE is short for regulatory examination. The RE is competency (licensing examinations) that need to be passed as part of the regulatory requirements to act as representative or key individual in the financial services industry.
You will mainly hear a about an RE1 and RE5 in the industry.
One of the regulatory requirements to act as representative or key individual is that a representative must pass RE5 and a key individual must pass RE1.
Below is an explanation of the concepts mentioned above.
What is a representative?
A representative is any person who sells or services a financial product.
What is a financial product?
A financial product is one of the following:
Insurance policy
Financial investment
Pension fund benefit
Bank deposit
Medical schemes benefit
What are the regulatory requirements to be a representative?
The requirements for a representative are quite complicated. Therefore we only consider the requirements applicable to a representative (Category I) without considering exemptions as some representatives that perform restrictive services in terms of activities or products may enjoy exemption from some of the qualification requirements. The requirements for representative are considered in great detail in the RE preparation workshop and therefore it is advisable to attend to get a full understanding of all the requirements.
A representative need to meet the following requirements:
Minimum qualification: A representative (Category I) needs a minimum of a Grade 12 certificate or NQF Level 4 qualification. A representative needs this requirement on appointment and therefore a representative can not even been placed under supervision to meet this requirement.
Class of business training: A representative needs to complete Class of Business training within 12 months from date of first appointment. The Class of Business or COB training needs to be completed according to the sector in which the representative falls. Class of Business may be completed online. Compliance and Learning Center offers affordable COB training via our e-learning platform. Enquire here about our COB training.
RE5: A representative needs to pass an RE5. Although the regulatory requirements do allow a representative 2 years to pass the RE5 whilst working under supervision most employers requires that a representative have pass the RE5 before employement. This is done as an industry norm as the RE5 has proven difficult to pass without the proper assistance. Compliance and Learning Centre can provide this assistance. We have helped more than 10 000 persons to pass. We have the experience, the passion and the knowledge with tons of references. Please clickhere for more information on the workshop we offer in preparation of the RE5 examination.
Recognised qualification: A representative need to complete one of a specified sets of qualifications within 6 years from date of first appointment.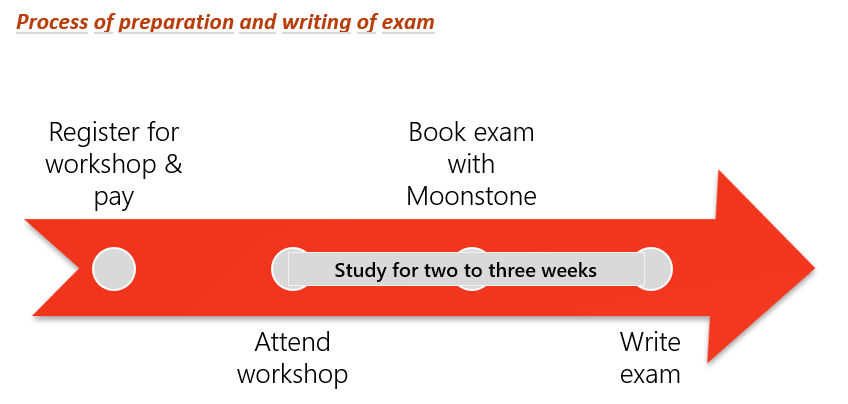 Frequently asked questions
Is it necessary to attend a workshop?
The RE1 and RE5 are licensing (competency) examinations that need to be passed by persons performing certain roles within the financial services industry.
As a licensing exam, the RE1 and RE5 is set by the regulator for the financial services industry. The regulator is known as the Financial Sector Conduct Authority (FSCA). Only a regulator approved exam body is permitted to invigilate taking of the exams. The current appointed exam body is Moonstone.
Although you can prepare for the exam on your own by using the legislation, this is tedious and most people find it very difficult to pass the exam on their own.
Compliance and Learning Center are the most reputable company to offer services to assist you to pass the RE1 and RE5 first time. Therefore, participation in a RE preparation workshop is not compulsory but highly recommended to ensure that you pass the first time with minimal study time.
What is the format of the workshop?
The RE1 & RE5 preparation workshop is a 2-day contact facilitation workshop considering the subject matter of the RE1 & RE5 but also provides insight on how to approach the exam and how to study for the exam.
Why is RE1 & RE5 offered as one workshop?
The subject matter of RE1 & RE5 overlap with about 85%. Therefore, they can be offered as one workshop. However, participants for RE1 stays behind an additional 45 minutes each day to consider the extra subject matter presented in RE1.
Do I need to prepare before attending the workshop?
We do not recommend any preparation beforehand as we feel that the material is approached wrongly. The facilitator teaches participants what to focus on when studying for the exam.
What does the workshop fee include?
The fee includes the following:
Latest updated study material
Mock questions and mock examinations
Access to animated learning videos
Refreshments & light lunch (Face to face facilitated workshops)
Post workshop study support
Post-study support
Exam registration assistance
Do I need to study anything else besides the study material given?
The study material provided is sufficient and covers all knowledge criteria. We do not recommend that you use any other material in preparation for the exams.
Do you have more mock examinations?
CLC provides each participant with 1 specific mock exams and 3 additional mock exams. We do not feel that completion of more mock examinations are necessary and that participants rely too much on using mock examinations as preparation or assessing their readiness for the examinations.
It is advised that participants rather use this time by reading again through the study material.
How long after the workshop must I go and write the exam?
We recommend that you write the exam from 2 to 3 weeks of attending the workshop to allow sufficient time for preparation.
Can I re-attend?
Participants can re-attend the workshop as many times as they like. Each re-attendance will carry a venue fee only which ranges between R350 – R700 depending on the chosen venue.
Request a re-attendance registration form from [email protected] should you wish to re-attend.
---